Hedgehog, sugar glider, sto, short-tailed opossum, duprasi, squirrel, mouse, mice, rats, rabbit, bunny, chinchilla, hamster, gerbil, rat, birds, guinea pig, degu, jird, dormouse, lemming, jerboa, prairie dog, chipmunk, ferret, skunk, agouti, belgian hare, english lop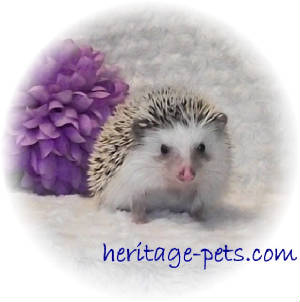 PROVEN BREEDERS
Sometimes, we have a hedgehog that has raised a litter and we decided to keep a baby from that breeding & therefore we no longer have a need to keep the parent actively breeding in our program. Whenever we have proven breeders, that are still young enough to raise a litter, we will offer them to other breeders looking to expand their breeding herd. Normally these hedgehogs are between 8 to 12 months old. Prices vary.

RETIRED BREEDERS
Many breeders continue to breed their hedgehogs well into their prime but for us repeatedly breeding of a female is seldom necessary. Whenever possible we try to retire our hedgehogs before they are 18 months of age. (While they are still young enough to become a much-loved pet). Retired breeders are offered at a reduced price. Most of our retired hedgehogs are quite friendly and most often they adjust to new homes very easily. Prices vary.