Hedgehog, sugar glider, sto, short-tailed opossum, duprasi, squirrel, mouse, mice, rats, rabbit, bunny, chinchilla, hamster, gerbil, rat, birds, guinea pig, degu, jird, dormouse, lemming, jerboa, prairie dog, chipmunk, ferret, skunk, agouti, belgian hare, english lop
Below is an online version of our Health Guarantee as it pertains to animals that are sold to pet homes. You will receive a copy that is signed and dated effective, at the time of pick-up or delivery.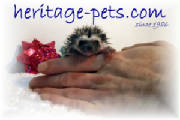 We are hobbyists who specialize in raising specialty pets. Being that we are a private home not a pet store we do not sell supplies and we do not keep regular hours; all visits are by appointment only and all appointments need to be scheduled via a phone call (not an email or text). We need to talk to you before we will commit to a sale of any animal.
Do to time constraints, we are not scheduling visits to our home in Mississauga however we still welcome visits to our home in beautiful Niagara Falls, Ontario. (Just under an hour from Mississauga)
If, after reviewing our website should you still have questions that have not already been addressed on the site or if you would like to book a time to visit us at our home in Niagara Falls please call us instead of emailing us at 289-990-hpets (289-990-4738) in Niagara Falls or 647-725-1111. (We try to keep our phone lines open from 10AM until 10PM daily.)
(secondary email critterscanada@cogeco.ca)
3,049,895 views