Hedgehog, sugar glider, sto, short-tailed opossum, duprasi, squirrel, mouse, mice, rats, rabbit, bunny, chinchilla, hamster, gerbil, rat, birds, guinea pig, degu, jird, dormouse, lemming, jerboa, prairie dog, chipmunk, ferret, skunk, agouti, belgian hare, english lop
One type of hedgehog habitat that you could start with.
Below is a picture of one of our hedgehog cage set-ups. This is the one we typically use for all of our hedgehogs but it is only an example. Styles will vary somewhat. Remember that the larger the cage the more fun for you and your pet.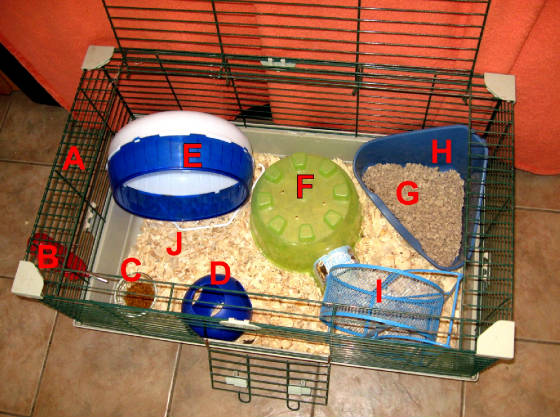 A- CAGE… You will notice that on this cage the wires are far enough apart so that an adult human can fit their fingers through the spacing. We prefer to use this style cage because hedgehogs sometimes climb up the cage wire but typically just let go to get down. Smaller more tightly spaced wires are not safe because when the hedgehog wants to get down and lets go, a foot or leg can become stuck between the wires. The larger spacing of the wires helps to prevent the foot or leg from becoming lodged. There are several styles of cages available to choose from. Just be sure that it is an open-air cage and not an enclosed box style, glass, plastic or wooded container.
B- 8 OUNCE WATER BOTTLE
C- SMALL FOOD DISH
D- TOY (at least one)
E- SILENT SPINNER WHEEL (One wheel is nice but two are better)
F- SLEEPING DEN (IGLOO)
G- LITTER (any non toxic litter except clumping should work)
H- CORNER STYLE LITTER BOX
I- SCREENED WHEEL (we prefer this style as the animal's feet do not fit through the screening and it seems to stay cleaner longer)
J- ASPEN BEDDING
*Carefresh bedding is a great substitute for Aspen bedding
* We prefer to feed kitten and cat food to all of our hedgehogs